Concrete Pumping Contractors San Diego - Shotcrete versus Gunite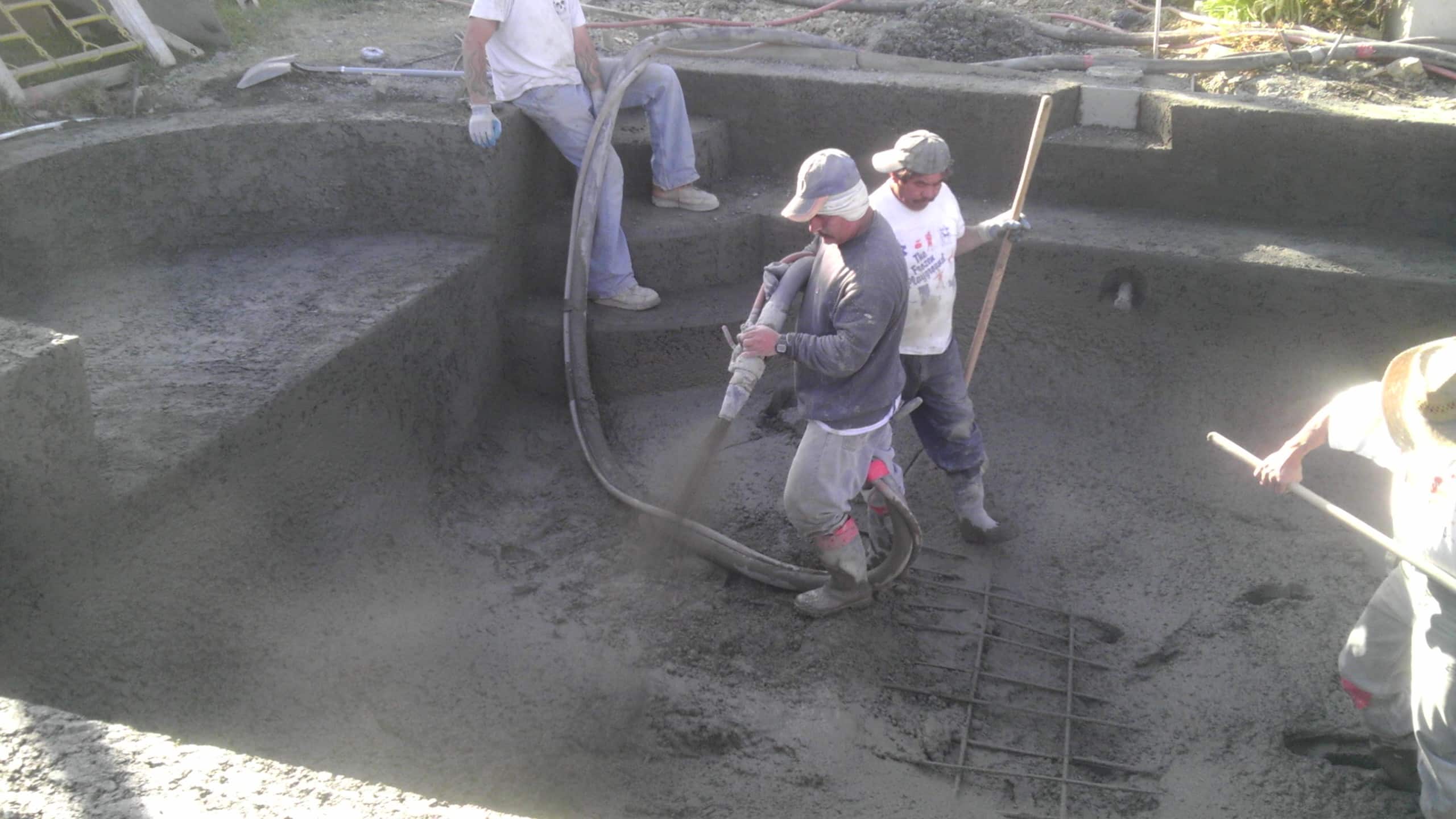 Concrete Pumping Pros Shotcrete and Gunite
Shotcrete – With the problems of gunite causing serious issues for builders, shotcrete is the solution. By using an optimized computer-controlled mix, shotcrete removes all the inconsistencies by manufacturing the material with precise and accurate standards.  Our experienced employees make us the best shotcrete concrete pumping contractor in San Diego.  As a wet material, the concrete passes through a two-inch hose and uses an air ring as opposed to the water ring for the dry mixture.
Currently, the California Department of Transportation actually uses shotcrete exclusively for highway construction, bridges, and other designs around the area. For swimming pools, you have an incredibly strong material (thought to be between 3,000 and 4,000 PSI) which gives you peace of mind. Ultimately, shotcrete removes human error and provides a more reliable solution in the long term.
Gunite – As a combination of cement and sand, the mixture occurs on-site and it uses air from large compressors to push it through a three-inch hose. Inside the nozzle tip, a little water is added using a water ring and the 'nozzleman' stays in control of how much water is applied. As the material leaves the hose, it combines with the water and exits as a wet mixture to be applied wherever necessary.
Unfortunately, on-site workers can have a little trouble with gunite application since their accuracy is the key to success. With no regulations or controls that guarantee a good result, the workers need experience and skill to get it right each time.
Even with the mix itself, it's a manual process and inconsistencies can lead to reduced or erratic pressure; if it falls below the recommended 2,000 PSI mark, this is where most issues occur. When coring tests take place on the walls of the pool, these inconsistencies will be confirmed and it suggests the pool will soon crack and leak if not corrected.
Pools – Today, swimming pools at residential homes make up a high percentage of our work in the area and customers are always happy with the result. As shotcrete has been used more and more, we've seen the benefits of choosing this option over gunite and the majority of contractors have noticed the difference too.
If you're subcontracting the work out to others, we can help homeowners with advice and tips moving forward. If you have any questions regarding shotcrete, we can help since our extensive experience has made us experts in the topic.
Generally speaking, pools have undergone big changes in recent years and features play an important role; this includes simulated rocks, vanishing edges, waterfalls, and more. Although more complex now, we moved with the times (unlike many others) and can offer a sublime service as a result. Whether you're the pool builder or the homeowner, feel free to get in contact today because we can achieve results in even the most difficult of circumstances.
Drainage Ditches – Although mainly dirt, drainage ditches will be lined with up to six inches of concrete. As you can imagine, this is a delicate operation and one that normally leads to two feet by one-foot ditches. However, the shapes can differ depending on the water needing to be controlled.
Despite 2×1 feet being the standard size, you can find anything up to 7×3 feet and this comes as a trapezoid shape; commercial applications will be needed for these designs. Nowadays, the San Diego County Book of Standards lists everything you need to know. With our service, you have a company with years of experience in the field. With a 191Kabota excavator, we can start the project strongly before then introducing a wire mesh appropriate for the task.
When ready, the shotcrete team will come in and place the concrete according to the plans. Whether you're a homeowner or contractor, we aim to please with the highest possible quality at all times.
Erosion Control – At times, we complete erosion control too and this is important for protecting slopes and other areas of land. By applying shotcrete (sometimes with reinforced steel), we can vary the thickness and provide the required protection. Elsewhere, we can also prevent water from damaging the foundations of properties. Whether it's under the home or in the basement, this treatment prevents more expensive problems from arising.
With some slopes, they can offer embankments that are nearly vertical and this can be tricky. However, shotcrete can be used with a rough nozzle finish and this allows us to follow the movements of the slope. On other occasions, we're forced to use a wire mesh on a fine graded slope you might find under bridges or along the freeways. After applying the shotcrete, we can apply the smooth or broom finish.
As you can see, we've developed the right techniques to mold our services to the needs of the project.  Our diverse techniques and job capabilities makes our company the best shotcrete concrete pumping contractor in San Diego.  Don't delay your project any further, call us today!