Concrete Pumping Contractor Santee
Indeed, It Can Be Done: Trailer Pump Can Be Used for Concrete Pumping in Santee
The thought of concrete pumping in Santee or that trailer pumps can be used to convey immense loads of concrete were once viewed as outlandish; something that can't really be done. Trailer pumps can handle concrete pumping jobs of all sizes. Despite it being rather small the machine is actually very powerful, and coupled with the right knowledge, it can do a lot of wonders!
Cement mixture behaves differently when you place it inside a pump or a hose. Knowing how it moves will help you understand how you can use a trailer pump. But what about the stones blended with the concrete? We also consider the size of the rocks and multiply it by four to ensure that the pump will not get blocked. There should be enough room for the water, portland cement, rocks and sand inside the pump.
We concede that tests don't always yield the same result as that produced in the actual process. During an actual concrete pumping operation, the process could be hindered by blockages inside the hose. There are instances when blockages or similar matter occurs. But at 150 feet in length, the hose delivered the concrete just fine, with no impediment.
In this case, having hooks will be of great help. Getting an extra pair of hands to pull the slack is also beneficial when it comes to weighty setups. Larger hose could mean larger flow problems. If you need a larger or heavier setup, you will need to hire more people to pull the pump.
We know these things because we are specialists in rock concrete pumping. We are staffed by experienced and skilled technicians who can help you resolve problems with your delivery of heavy concrete mixes over long distances.
Professional Concrete Pumping in Santee
You can use our concrete pumping services for your commercial, residential or industrial projects. We have been in this service for over two decades. In that span of time, we have gathered a reliable and outstanding team of experts who can skillfully work with trailer pumps. You can make use of our services in a wide range of projects, even the more complex ones. No matter how complex or how big your project is, you can trust our team to deliver exceptional services. We are a fully licensed, bonded and insured concrete pumping contractor.
We take pride in our highly trained operators who can deliver safe and seamless solutions. We can work on precast columns, residential lintel pumping, tie beams, slabs, power jacking, sink holes and sauna tubes. Using our durable and high-quality line pumps, we can deliver concrete mixed with grout, rock, or pea rock in sizes up to one inch in diameter.
Our Track Record
As soon as you call us and agree to use our services, we will meet with your structural staff to make a detailed plan for your project. We could be your partner in building commercial or residential foundations, in waterproofing or even in decorating your home. Over the years, we've worked on hundreds of various projects with varying requirements. With our track record, building a retaining wall is the least we can do.
House Lintel Pumping
Our service price includes the setting up of 50 boards on the walls to provide 50 clean outs in house lintel concrete pumping. But if your requirements go beyond this, then we will adjust. Just let us know so we can discuss the matter thoroughly. Before we start the project, one of our technicians will check the down cells to make sure they are in good condition. We will then prepare the mixer and check the truss straps. We work with great efficiency. Because of the "j bolts" we place in the garage header and because we make it a point to clean the walls and ground after our operation, you won't even know that we have already finished the job when you come to inspect. We will then check all the inspection holes before removing the boards and nails.
Columns, Slabs, Tie Beams, Preform Columns, and Sauna Tubes
Our concrete placement team will work in tandem with your professionals to confirm that your exact specifications for the job were made at the time and budget that you intended.
Power Jacking and Sink Holes
We can prime our pumps to reach a pressure point of 4,000 psi and even higher to ensure the highest standard of void filling. We are aware that because of the weather and other factors, hollow spaces can form underneath slabs, parking garages, office buildings, and road beds. But there's no need to worry because we have the right equipment and skills to fix this problem right away.
We Are Your Best Choice
We not only have the best equipment but also the best technicians who can operate them to achieve the best possible results for your projects. With Concrete Pumping Services, you can be assured of the results you want to achieve. We have an extended inventory and large teams of licensed professionals who can ably do the job you have in mind. Call us today, and allow us to show you how we can be of tremendous assistance to you.
Concrete Pumping Services in Santee: We're the Best in the Business
We at Concrete Pumping Services have the equipment, experience, and personnel to cater to your needs. Beyond that, we have the technical skills to carry out industrial, commercial and residential projects. We have been providing our concrete pumping solutions in the metro for years. We are dedicated to providing high-quality deals to all our valued clients. When it comes to concrete pumping, no one can surpass our proven competence. Whatever you need for your concrete pumping projects, we will be here to assist you right away.
Concrete Pumping Service in Santee: Best Hardware, Best Workforce
There is only one thing that has moved us, and continues to move us, and that is our commitment to serving your best interest. We relentlessly pursue that objective by continually improving our service, using the best equipment, and training our personnel to enable them to deliver the most efficient service while always ensuring environmental safety.
Our Numerous Positive Qualities
We have powerful modern pumps and other essential equipment in the hands of fully licensed professionals. You never have to worry about possible machine breakdowns that could cause project delays. We have a well-equipped repair facility that can quickly restore machines to their prime condition. We have various models of trailer pumps from such manufacturers as Schwing, Mayco, Putzmeister, and Reed. They are always in tip-top condition because they are well maintained and serviced regularly to avoid sudden breakdowns. We also make it a habit to test them out before any project as an added security. In the unlikely event our pumps malfunction (no fret though as this has never happened yet), we have a backup unit readily available so stoppage should not be a concern. By virtue of their extensive experience, our experts have learned to anticipate problems before they actually occur, enabling us to resolve potential problems before they actually show up.
Our company is fully insured for our own protection and that of our customers. Our technicians also possess licenses that enable them to legally perform their job and also certificates showing their competence in their respective specializations. With our company's record of competence, you can rest assured that you have nothing to worry about when the project is finished.
Our Trailer Pumps Can Handle Big Rock
We've heard that nervous laugh numerous times whenever we put forth the idea of pumping concrete to a slab using trailer pumps. We've also heard how people are sure about using only boom pumps in handling big rocks. They say only concrete boom pumps can handle big rock. Yes, they are right, boom pumps are great indeed.
It would cause a lot of inconvenience especially for people passing by the site. For areas located in a crowded metro, you do not want to cause any problems especially with the locals. These situations call for an economical and efficient resolution, and we assure you the answer is using trailer pumps. Contrary to the belief of many, trailer pumps are actually spectacular equipment that can effectively pump even in the lowest slumps.
Trailer Pump Power
Trailer pumps are perfect for use in home or building renovation projects, given their ability to pump up to 300 feet vertically, and over 1,000 feet horizontally. They can even pump at a rate of 70 cubic years per hour. They can even work with as much as 70 cubic yards an hour in nearly all cases. While a model may slightly differ from one to the other, it's likely that they come with the same boom pumps to pump kits and may weigh as much as 10,000 pounds.
Benefits of the Trailer Pump
Many of our clients who used trailer pumps have not reverted to using boom pumps because of the extra space they were able to save. They also loved how the equipment is very user-friendly. The trailer type of pump produces lesser waste and offers lower pumping rates. This is simply because they are very easy to maneuver, give less waste, allow lower pumping rates and can be utilized in small spaces.
If you use a trailer pump, expect to collect just one wheelbarrow of excess concrete. This saves you money and results in a better-executed project.
Which Type of Pump Should You Use?
Eventually, the choice is up to you. All pumps nowadays are awesome hardware. Looking back two decades ago, huge strides have been made in their development. We also suggest selecting a pump that can help you minimize the space needed for the equipment and the cleanup time and expenses.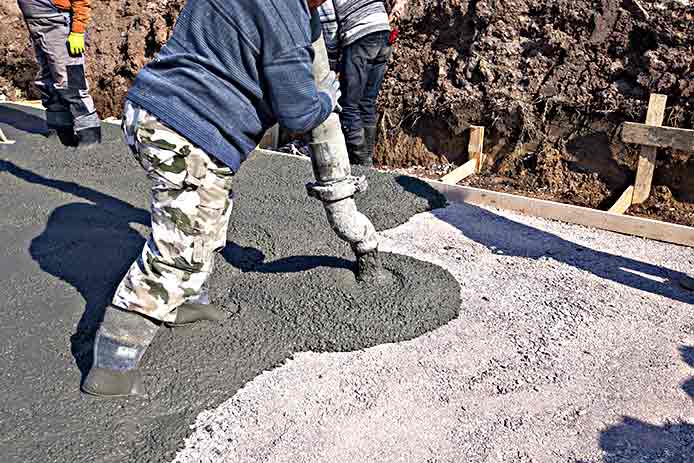 Gunite vs Shotcrete
Gunite is a material that has been used for a considerable length of time in building pools. The material leaves the nozzle as a pressed wet aggregate that sticks to walls.
Gunite is made by dry mixing sand and cement right on the site itself, and then pushed inside a 3-inch hose with the aid of a large compressor. A nozzleman determines how much water to add in the nozzle tip that comes with a special water-ring. The by-product leaves the nozzle by way of pressure.
This particular step is quite tricky. How good the mixture turns out depends on the skill of the workers. There is no exact formula that will guarantee perfect results. Irregularities in the blending of dry materials and water lead to diminished and unpredictable pressure ratings, which are less than 2,000 psi.
Enter the shotcrete, which addresses all the gaps in the application of gunite.
Gunite problems are no more, thanks to computers and technology that make it possible to come out with an accurate mixture. Shotcrete (concrete) is made using regulated standards. As such, inconsistencies are eliminated, enabling the concrete to pump through the house and adhere to the vertical walls without a problem. The portions are thoroughly regulated by a program so each truckload contains the perfect ratio of ingredients. The concrete dry mix is then combined with water and pumped via a two-inch sized hose with an air ring.
Because of the accuracy of the process, shotcrete is now the preferred choice of material by the California Department of Transportation in the construction of bridges and retrofitting. The mixture can also be used in making pools since it can maintain up to 4,000 psi which helps prevent water leaks.
Pools
A good chunk of our projects involves residential pools, particularly in San Diego and the surrounding areas. By using shotcrete, we have drastically reduced cases of leaks and breakdowns. We have been using shotcrete in our projects, and we are not surprised to know that some contractors are now preferring this material to gunite, too.
We have been working with private property owners who subcontract their pool projects to us. At first, they asked for information about the service we provide and inquired about shotcrete.
Pools have seen extensive improvements through the years. Some of the newly built ones have more complex features such as vanishing edges, waterfalls, and fancy rocks. From a simple design of a hole in the ground, we now introduce additions like waterfalls, fountains, simulated oceans and invisible edges long before other companies followed suit.
Drainage Ditches
The drainage ditch is basically a concrete duct that drains off the sewage or excess water. Typically, the ditch has a width of two feet and depth of one foot. It's made of 3-6 inches of concrete. Ditches can vary in sizes and shapes. A type D ditch, for instance, is three-foot wide and one-foot deep. You can also find seven-foot wide ditches that are three-foot deep and built-in trapezoid design, as required in certain business applications. The volume of water blended with the concrete is very important in constructing these ditches.
For commercial and agricultural applications, such as for irrigation for instance, drainage ditches may range from three-foot wide to a width of as much as seven feet, along with a three-foot depth. The San Diego County regulates most of the specification of drainage ditches. Our company can help your dig and create the right type and size of ditch that you need for your property. Our team of workers will then install the 17-gauge wire mesh or the 6x6x10x10 wire mesh based on the plan. They will then spray the shotcrete to finish the job. We strive hard to satisfy both the homeowner and the contractors by ensuring that the services we deliver are of the highest quality.
Erosion Control
Roadway and foundational erosion control is also another major aspect of our specialty. We do factor in the environmental conditions surrounding the construction site and study documented geographical conditions to limit the risks. Nevertheless, we can introduce mechanisms and measures that will ensure the integrity of the project. Shotcrete sprayed in slopes will be vulnerable—even with reinforced steel—to water movement if we don't introduce anti-erosion controls. We likewise use shotcrete to upgrade the strength of bridges, highways and other government infrastructure projects. We can also do erosion control in private ventures. We can construct fine-graded inclines with wire mesh in different structures and with a smooth or broom finish. During some instances, we may use techniques used in commercial projects like freeways and bridges for residential projects.
Gunite or Shotcrete?
Gunite is the end-product when mortar passes through a hose and propelled at high pressure to the surface. When sand or small coarse aggregates are used to add thickness to the mix and to make the product more cost-effective by reducing the cement content, the end-product is called shotcrete. This material is produced using higher air pressure to make the cement harder and tougher. We sometimes use quickening agents to help in the overhead placement of shotcrete. At times we use accelerators to help in overhead placement of shotcrete. The recently developed "Redi-set cement" can also be employed in the shotcreting process.
Guniting and shotcreting are nearly identical. Gunite was first used in the early 1900s. The technique used air pressure to apply mortar on walls, which were thinner than the ones we have now.
On the other hand, shotcrete is an improvement of gunite. Its use results in the building of more durable walls with greater thickness. Shotcrete is produced in two varieties: the "wet-mix" and the "dry-mix." Two different processes are used—the "wet-mix" and the "dry-mix." The dry-mix process is generally more effective and the one most commonly used.
The dry-mix process is done this way:
(a) Cement and sand are thoroughly blended.
(b) The cement/sand mixture is put in a special air-pressurized mechanical feeder called "gun."
(c) The blend is measured and placed in the conveyance hose by a feed wheel or distributor.
(d) This material is pushed by compressed air through the conveyance hose to a special nozzle. The nozzle is placed inside with a perforated manifold through which water is passed and blended with the sand/cement jet.
(e) The wet mortar is ejected at high pressure from the spout onto the surface to be gunited.
The Wet-mix Procedure
Concrete is mixed with water before placing into the delivery equipment to be jetted by the compressed air.
The wet-mix procedure is no longer used as much today as it has been found to yield less successful results compared to the dry-mix procedure. The dry-mix techniques employ high-speed or low-speed system. High-speed gunite is created by using a small spout to release high air pressure to deliver concrete mix at a velocity of around 90 to 120 meters per second.
Benefits of Wet and Dry Process
Dry-mix application involves a lot of dust, which can be hazardous to the applicator. Also, the contractor can save a lot because the wet-mix doesn't require as many hired hands as the dry-mix process.
Pumping light aggregates is best done using the dry process. It must be noted that the dry mix process is largely dependent on the amount of water mixed with the sand. Sand that is too wet causes blocks inside the pipeline, an issue that does not occur in the wet process.
There is a lower water/cement ratio used in the dry mix process, which is why the ending result produces more durable concrete. However, it is worth noting that you can use air-entraining agents to strengthen the concrete is you prefer using the wet mix technique instead.
Pouches of lean mixture and rebound can happen with the dry process. It is essential for the nozzle operator to have a place where he can dump poor quality shotcrete obtained when he is still modifying the water content or when he is experiencing difficulty with the equipment.
Pockets of lean mixture and rebound can occur in the dry process. It is important for the nozzle operator to have a facility where he can put low quality shotcrete that is produced when he is still adjusting the water content or when he is encountering trouble with the equipment.
Also, it results in a lot of waste especially if the applicator has to adjust the nozzle or when the water content is less than satisfactory. While doing so, a large amount of the material will be dumped to the ground. The wet mix procedure will allow you to lay the concrete faster during a windy weather as compared to the dry method.